Alan Watts
(see also: Buddhism, Meditation, Taoism, Vedanta, Zen)


Article by David Claiborne
(C) Copyright 2000 All rights reserved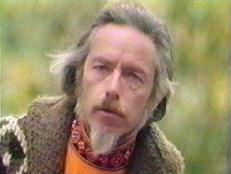 Alan Watts (1915-1973) is best known as an interpreter of Zen Buddhism in particular, and of Indian and Chinese philosophy and religion in general. During his childhood in England, he attended King's College School Canterbury. Young Alan first became interested in Chinese art as a boy while his mother was working as a missionary to Chinese Buddhists. His fascination soon widened to Buddhist philosophy, and at the age of sixteen he began writing essays for the journal of the Buddhist Lodge in London.
He served on the Council of the World Congress of Faiths from 1936 to 1938, after which time he came to the United States. He received a Master's Degree in Theology from Seabury-Western Theological Seminary, and an Honorary Doctorate of Divinity from the University of Vermont in recognition of his work in the field of comparative religions. Additionally, he held fellowships from Harvard University and the Bollingen Foundation, and served as the Episcopal Chaplain at Northwestern University during World War II. He became a professor and dean of the American Academy of Asian Studies in San Francisco, and served as a visiting consultant for psychiatric institutions, hospitals, prisons and for the United States Air Force. During the 1960s, he traveled extensively throughout the Orient, particularly Japan, as well as Burma, Ceylon and India. He died in his home in California in 1973.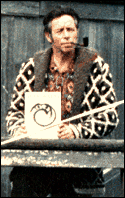 Alan Watts has authored more than 20 excellent books on the philosophy and psychology of religion. He lectured extensively, leaving behind a vast audio archive. Nearly 40 years after his death, he is still played regularly for hours each week on radio stations across the nation. He also made at least two record albums, and a number of TV and film programs which are now on video tape. His life and work paint an amazing picture; he was an author, lecturer, entertainer, professor, Anglican priest, graduate dean and broadcaster. His hobbies included archery, calligraphy, cooking, chanting, dancing, meditating and loved a solitary hike in the wilderness. His lectures and books deal with subjects which are both timely and timeless, such as drugs, counterculture, environmental concerns, mental health, and philosophy.
With his amazing lucidity and wonderful humor, Watts has tackled some of mankind's most profound philosophical questions and left his audience of millions enriched and entertained, and continues to do so today through the vast body of work he has left behind.

Library Links
There are currently no library files on this topic. Please feel free to submit!

Off-Site Links
Alan Watts at the Deoxyribonucleic Hyperdimension
A Psychedelic Experience: Fact or Fantasy? by Alan Watts

Related Books
Here's some of the crap you can buy on this subject.